Assembling and Using Robobit Mk3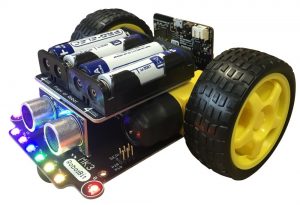 Robobit Mk3 buggy is a fully integrated and updated version of the Mk2 with all options (except Talon grabber) ready integrated into the unit
Purchase Robobit Mk3 here
Features
Compact design DIY robot that is easy and quick to build
No soldering required. Screwdriver and spanner widget included and are the only tools required
Presented in an attractive gift box
Integrated ultrasonic distance sensor
Integrated line follower sensors
Integrated pen holder (designed for Sharpies, but other pens will fit)
Integrated RGB smart LEDs (aka neopixels) with semi-automatic Larsson scanner function
Fully supported by the Microsoft Makecode extension – search extensions for "Robobit"
Powered by 4 x AA batteries (not included)
Assembly
Step 1 – Check you Have the Correct Parts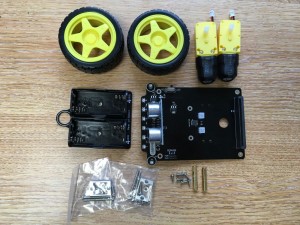 Main PCBA with prefitted ultrasonic sensor
Battery Holder PCBA (NB. Ring fits to rear of robot – no matter what it says on it!)
2 x bags with motor mountings
Bag with 6 x 6mm M2.5 screws and 2 x 25mm pillars
2 x motors with pre-fitted cables and plugs
2 x Wheels
You should also have 2 tools: a double ended screwdriver (pull out of handle and turn round ot get alternate end), and a Pimoroni "spanner widget" for the motor mount nuts
Step 2 – Fit the motor brackets to the Motors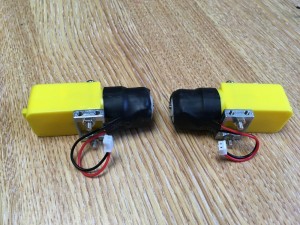 Mount the brackets the opposite way to each other so you have left hand and right hand assmblies as shown.
Use the Pimoroni spanner widget to held the nuts while you tighten the screws.
NB. Very important to ensure the edges of the nuts are flat with the top of the motors or the motors will be at a strange angle when fitted.
Step 3 – Fit Motors to Mainboard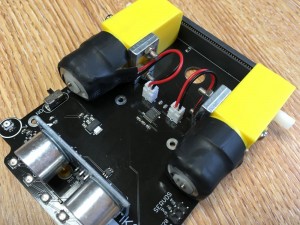 Use th two 10mm screws in each motor mount bag to fit the motors to the top of the main PCBA as shown above
Ensure the axles are at the rear and facing outwards.
Tighten the screws fully
Step 4 – Fit the Front Caster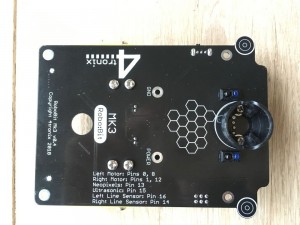 Remove the ball if it is supplied already in the housing
Use two of the 6mm screws to fit the housing the the bottom of the main board as shown above
Step 5 – Fit the Battery Mounting Pillars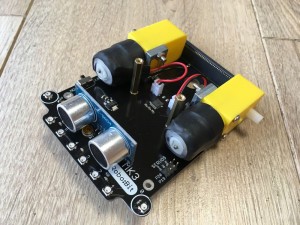 Use two of the 6mm screws to fit the 25mm pillars as shown above
Tighten up fully
Step 6 – Attach the Battery Holder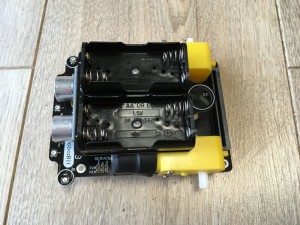 Use the remaining two 6mm screws to attach the battery holder firmly
Ensure the pen holder ring of the battery holder is directly above the pen holder hole in the main board
Step 7 – Finish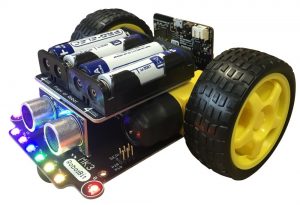 Push on the wheels and pop in the caster ball
Fit batteries.
Add your Micro:Bit and start programming!
Visit Programming Robobit Buggy