Pi2Go-Lite Kits Released for Sale at CamJam
I went to the Cambridge Jam yesterday and was indundated with questions and people wanting to know more about the newly released Pi2Go-Lite kit for the Raspberry Pi. Now available for immediate shipping from here.
I also did a brief presentation of the development process I have been through over the last 9 months or so – starting from a mock-up made from modelling board:
And progressing through various prototypes to the final full Pi2Go prototype: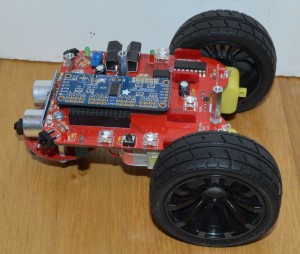 Following this prototype, we forked the project so that the full Pi2Go would be manufactured as a fully soldered mainboard using surface mount components and the Pi2Go-Lite would be a reduced feature-set product that could be hand-soldered using surface mount components.
Pi2Go (Full) Update
Now the Pi2Go-Lite kit has been released and the full Pi2Go is about to go for CE testing at an independent lab. Once these tests are passed, we can move to full production. It looks like it will be at least 6 weeks from now.
Pi2Go is now a Registered Trademark
When I arrived home from the Cambridge Lam, I found a letter containing the registration certificate for the Pi2Go trademark. Excellent timing!