MicRoCon – Micro Robotics Controller for Raspberry Pi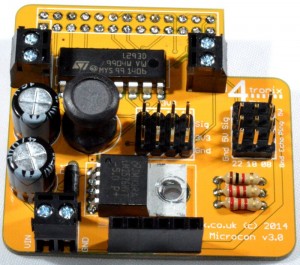 This is the baby sister to our full-featured PiRoCon controller board. It still features two bi-directional motor controllers, a 5V regulator for the Raspberry Pi as well as general purpose IO connectors, 5V servo outputs and a 4-pin Ultrasonic input.
Motors A & B
Motor A: Pins 24, 26 (GPIO: CE0 and CE1)
Motor B: Pins 19, 21 (GPIO: MOSI, MISO)
Permanently enabled
Use either pin for each motor with PWM
Remember to invert the PWM duty cycle when reversing
Motors are driven via an L293D H-Bridge chip from the input voltage at the 2-pin terminal (not from the regulated 5V supply)
 GPIO Connections
These are NOT level-shifted and only work with 3.3V devices. Do not connect a 5V input
Each GPIO pin has an asdsociated Ground and 3.3V pin so can connect 3-pin sensors directly
Pin 7 (GPIO: 04)
Pin 11 (GPIO: 17)
Pin 12 (GPIO: 18)
Pin 13 (GPIO: 27)
Servos
These 2 sets of 3 pins provide outputs to drive 5V servos
The signals are not level-shifted but all servos I have tried work happily with a 3.3V input signal
Servo 1: Pin 18 (GPIO 22)
Servo 2: Pin 22 (GPIO 25)
Ultrasonic Input
These four pins allow an HC-SR04 4-pin ultrasonic sensor to be connected directly
This uses a resistor network to allow the sensor to use only a single GPIO pin, which is shared between Ping/Trig and Echo
Output a pulse using the pin in output mode
Then switch to input mode to await the response
This is connected to Pin 8 (GPIO: Txd)
Regulator
This uses an L4040V5 linear low dropout regulator
The input voltage can go as low as 6V and the output will remain at 5V
The higher the input voltage, the hotter the regulator will get in use
The motors do not use the regulated voltage so will have no effect on the temperature of the regulator
I2C Female Header
Allows easy access to the I2C signals SCL and SDA
Also provides 0V, 3.3V and 5V connections
Same pinout as used on the PiRoCon expansion header so all expansion boards for the PiRoCon can also be fitted to the MicRoCon – ADC, 16-channel PWM available right now.
You can use the 4tronix IP Display dongle directly into this header.
Return to MicRoCon Home