AGoBo is the winning name – Suggested by @mcambelluni
Mark will receive a complete AGoBo prototype, as well as the next iteration of the main PCBA.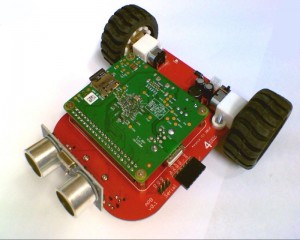 Starting 29th November 2014 and finishing 1st December, we are running a Twitter based competition to choose a product name for this new robot, codenamed APB01
The winner will receive a complete prototype robot, including the Model A+ and we will ship it worldwide.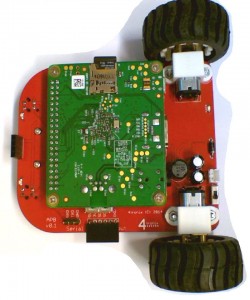 Specification
This is a prototype robot at the moment, and we expect the specification to change before we start selling it in January. Current specs as follows:
Supports Raspberry Pi Model A+ only
Size 100 x 80 25mm (excluding wheels)
Built-in power supply that works from 6.6V to 12V quite happily, supplying power to both the robot and the Pi
Serial connections (for SSH console cable) brought to convenient connector on the edge
Standard 4tronix 6-pin I2C breakout connector – direct fit for the IP Display module we make
2 x line follower sensors with indicator LEDs
Ultrasonic distance sensor
N20 size, metal geared motors
42mm wheels
Provided ready soldered. Just screw in your Pi and add batteries.
It really is as easy as Pi to get going in robotics now.
Competition entries (in order of appearance)
mA+rvin – @MarkSwashplate
Colin – @newsliner
Pi2Go Nano – @monkeymademe
Pi2Go mini – @monkeymademe
Eric – @Mruktechreviews
Ratbot (rA+bot) – @monkeymademe
picabot – @TommyBobbins
nitbit – @monkeymademe
berryBot – @monkeymademe
HatBot (hA+bot) – @monkeymademe
DiddyTron – @AverageManvsPi
DiddyBot – @AverageManvsPi
A+ PiBot nano – @BitSkils
The Crumb – @AverageManvsPi
The Mighty Maus – @heeedt
PiBotA+ – @skinnermartin78
GoA+Bot (GoAtBot) – @skinnermartin78
NanoGo – @skinnermartin78
Johnny – @Ascii211
MadgeBot – @ukscone
BiBot – @JarrowComputing
DinkyBot – @skinnermartin78
MidiBot – @skinnermartin78
+SonicBot – @CoderDojoCarm
BotAplus – @treefrog52
BotAppi (BotA+Pi) – @AndyBateyPi
A4 – @sej7278
A Robot – @sej7278
PiBot – @TeCoEd
Alfie – @richard007_1999
AtBot (A+Bot) – @uk_baz
Flat Stanley – @uk_baz
4tA+v1 – @uk_baz
HalfPint – @skinnermartin78
Swarmer – @zosho
NA+Bot (NatBot) – @skinnermartin78
Pip – @skinnermartin78
BitBot – @skinnermartin78
DotBot – @skinnermartin78
A+Go – @skinnermartin78
A+GoBot – @skinnermartin78
Rudolph – @CoderDojoCarm
RaspAπbot – @skinnermartin78
JittyBot – @JarJarGeek
Pi-onic – @red_dragon25
PocketBot, PocA+Bot – @skinnermartin78
PiAbot – @RobertsDavidJ
PiAtron – @RobertsDavidJ
PintBot – @recantha
AGOBO – @mcampbelluni
PiAGoGo – @mcampbelluni
KinderBot – @APChristie
SchoolieBot – @APChristie
IKnowBot – @APChristie
DeBug – @RobertsDavidJ
aRobot – @Stimmli
rA+pless (ripless) – @MBDilaver
PiPlusBot – @Cloud4Schools
RoboPip – @StefanPlum
piDestroyer – @evgeniyraev
pupPi- @evgeniyraev
HAL 1- @evgeniyraev
a1- @evgeniyraev
Dalek- @evgeniyraev
BugPi – @skeletony
BuggyPi – @skeletony
PiAGo – @skinnermartin78
PiAGoBot – @skinnermartin78
FrogBot – @AndyBateyPi
PiFrogBot – @AndyBateyPi
Piccolo – @ukscone
amphipian – @AndyBateyP
ampibot – @AndyBateyP
apphibian – @AndyBateyP
appibian – @AndyBateyP
MidiBot – @skinnermartin78
MidiTron – @skinnermartin78
Medius – @skinnermartin78
4tronix build BotAplus – @treefrog52
Finalists (in Order)

AGOBO – @mcampbelluni WINNER
Piccolo – @ukscone
NanoGo – @skinnermartin78
mA+rvin – @MarkSwashplate
Pi-onic – @red_dragon25
BotAppi (BotA+Pi) – @AndyBateyPi
HatBot (hA+bot) – @monkeymademe
BotAplus – @treefrog52